DIY Board and Batten Shutters – Easy, Fast and Inexpensive
We may earn money or products from the companies mentioned or linked to in this post.
DIY Board and Batten Shutters proved to be the perfect accent for our farmhouse front porch. As you can see here, it really needed some help.
Best Wood for DIY Board and Batten Shutters
Several wood types will work well for your window shutter project. Pine and poplar are less expensive options. We chose cedar boards for our exterior shutters for several reasons:
Cedar is a sturdy wood that holds up well in moist conditions. Our porch is covered but is exposed to wind and blowing rain.

Cedar wood has a nice rustic look and pretty grain which compliments our old farmhouse.
*Carefully select your boards, eyeballing down the length to be sure you get the straightest ones. Also, check for knotholes if you don't want that look in your finished shutter project. Since we planned to stain the shutters instead of painting, I also opted for the cedar boards with the best grain lines.
Supplies Needed for DIY Board and Batten Shutters
Board and Batten Shutters Measurements
6- 4 inch wide cedar boards cut to the height of your window for each pair of shutters. We measured just the glass area of our window, which was 60 inches. We used 8 foot boards so we were able to get three cross boards out of the leftover wood. Usually. if shopping at stores such as Home Depot or Lowes, the employees in the lumber department will cut the boards to size for you. So, that saves you a step.

4 – 4 inch wide cross boards for each shutter pair.




Wood Screws – We used 1-1/4 " to assemble the shutters.




1/2 " dowel to use as a measuring spacer. Depending on the amount of space you want between each board, you may find a spacer that works better for you.
Tools Needed to Make DIY Wood Shutters
Circular saw or mitre saw.

Drill with Phillips screw tip.
How to Make Board and Batten Shutters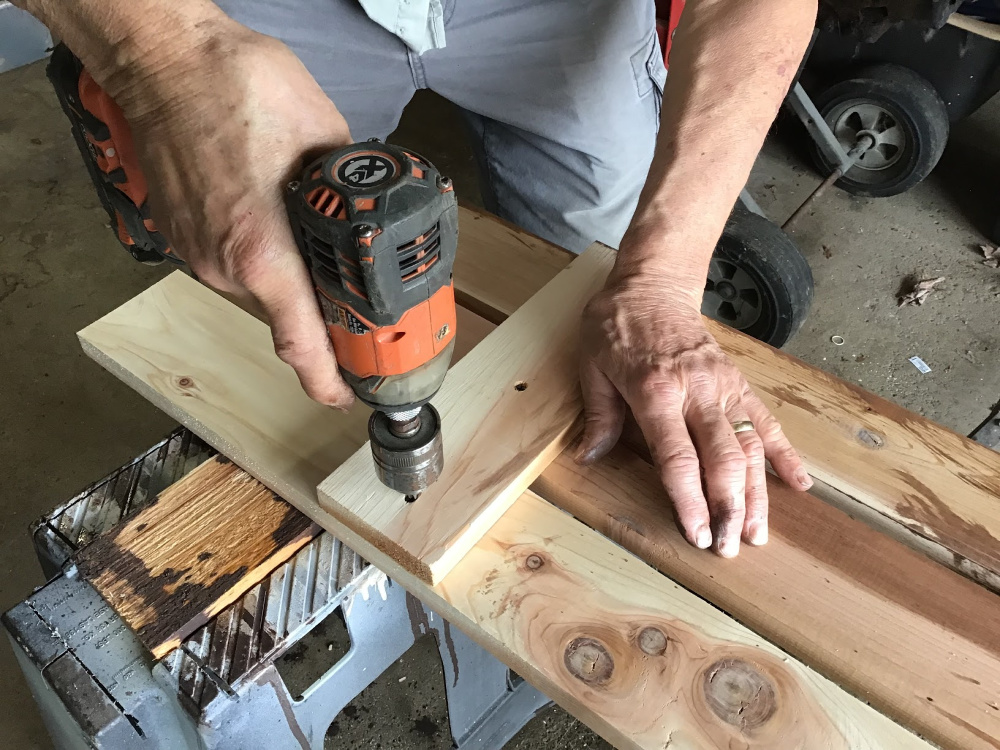 *As I will explain below, we stained the shutters after joining the boards together. I highly recommend you stain before joining.
Lay your three long cut pieces onto sawhorses or a flat surface.
Space the boards as desired, using a 1/2 inch dowel, paint mixing stick or whatever you have on hand.
Place shorter cross pieces across your long boards at the top and bottom. We placed ours nine inches from the top and nine inches from the bottom. Play around with your layout until you find what you like best for the placement.
Put one screw threw the short piece into each long board (for a total of three screws across.) Alternatively, when we do this again, we plan to glue the cross piece on, flip the shutter and screw in from the back. That way you end up with less nail holes. Not really a problem when painting but I find when staining that the wood filler in the holes does not really stain that well.
At this point, you can sand the wood if you wish. We chose to leave ours more rustic.
Choose a good outdoor stain. We chose Varathane Gel Outdoor Wood Stain.
Brush the stain onto the wood and immediately wipe down with a dry clean cloth. Old t-shirts work well for this. Be sure to get into the spaces between the boards well. Yet another thing we will do differently when doing this project again – we will stain the boards before screwing together. SO much easier. Live and learn!
First Pair of Shutters Done!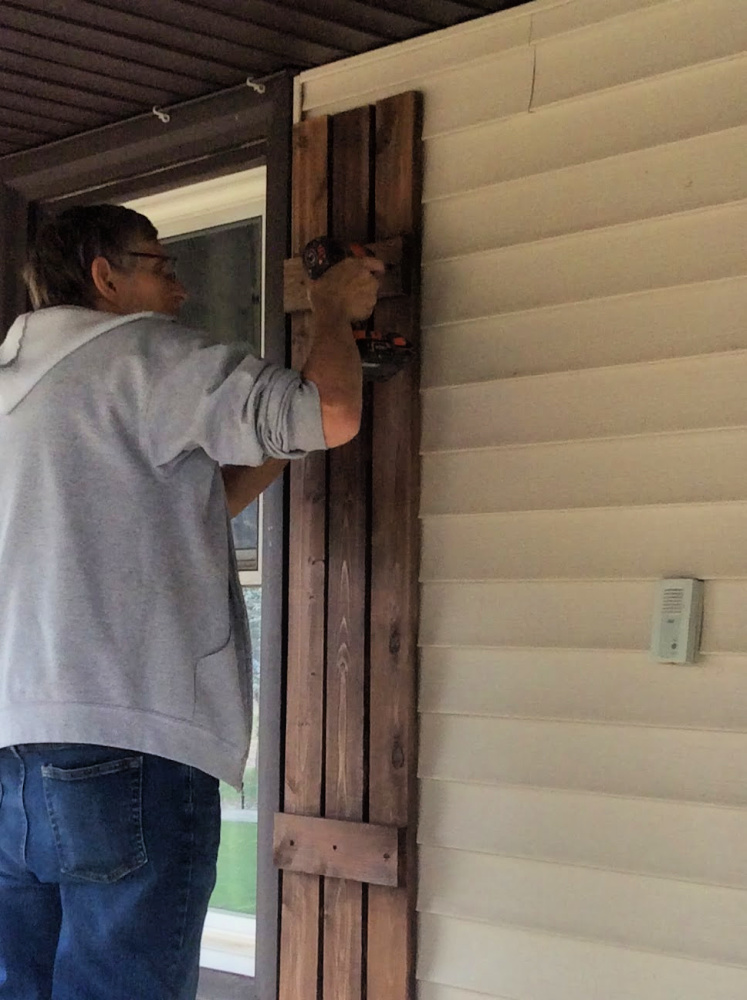 If you want to get a bit fancier, you can easily add these faux hinges to your shutters.
How to Attach Board and Batten Shutters to Vinyl Siding
We used long screws and attached the shutters right through the siding and into the wood beneath.  Others may have a different method.  If your shutters are exposed to a lot of moisture, it would be a good idea to caulk well around the screw holes with a clear weatherproof caulk.

DIY Board and Batten Shutters Cost
The cost of your DIY shutters will depend largely on the type of wood you choose to use.  For our DIY Cedar Board and Batten Shutters, our cost came to approximately $40.00 per pair.  Using pine, you can get the cost down to about $18.00 per pair.  That includes wood, stain and screws.
Finished Rustic Cedar Shutters