Best Way to Dry Hydrangeas for Beautiful Color
We may earn money or products from the companies mentioned or linked to in this post.
Learn how to dry hydrangeas for year-round garden beauty in your home. Hydrangeas are so beautiful in the garden and really do last a long time, but wouldn't it be nice to extend that beauty and bring it indoors to enjoy, even in the dead of winter?
What You Will Need to Dry Hydrangeas
Cut hydrangea blooms
Sharp scissors or pruning cutter
Glass vase or jar
Water
What Color Will my Dried Hydrangeas Turn
The color of the dried hydrangeas will depend somewhat on the type of hydrangea. The whites dry to a more tan color and the blues and pinks tend to mellow out to shades of burgundy and green. The new color of your dried blooms will fade to a more vintage tone, soft and subtle. These colors fit beautifully with most decor, whether it be farmhouse, coastal, modern or traditional. The flowers are so nice and airy looking.
Dried Blue Hydrangeas
Blue hydrangeas are often a favorite in our home gardens. When dried the blue hydrangea tends to turn subtle blue and some green and deep purple.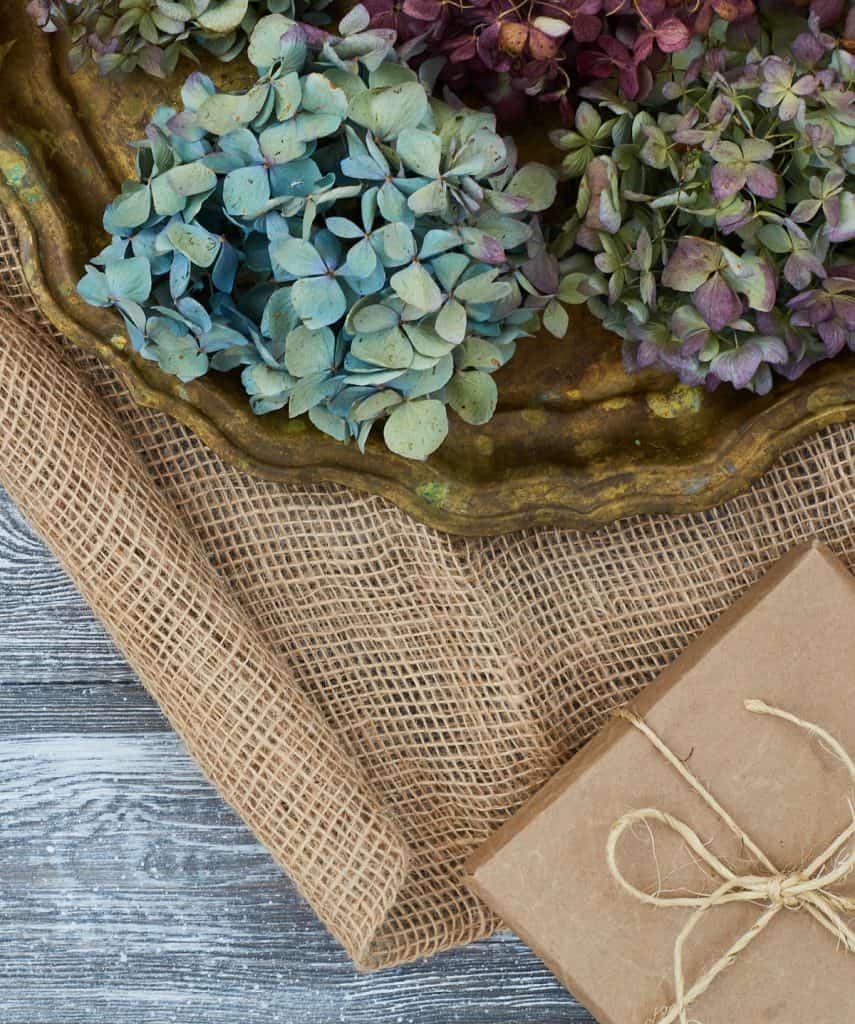 Dried White Hydrangeas
White hydrangeas will fade to a soft green, often with burgundy color.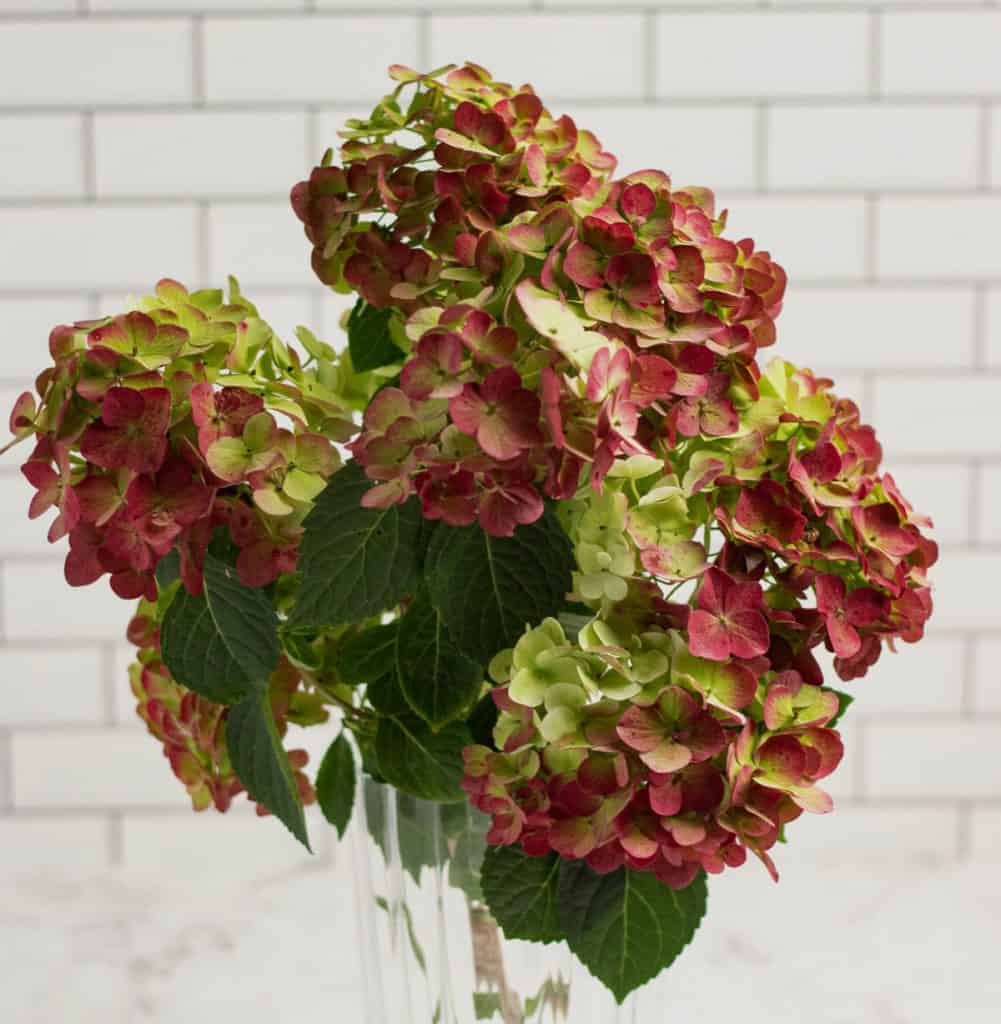 Dried Pink Hydrangeas
Pink hydrangeas will age to a soft lavender color when dried.
How to Dry Hydrangeas Using the Water Method
When to Cut Hydrangeas For Drying
Timing is critical for success in drying your hydrangeas to maintain beautiful colors. If you cut too early, the flowers will wilt and not dry well. If the hydrangeas are picked to late, after they have dried on the bush too long, the blooms will be too crispy and not continue to dry with a good color. Cut your hydrangea flowers when they have started to turn colors and began to dry on the bush. The petals will begin to have a papery texture.
Choose the Perfect Hydrangea Blooms to Cut For Drying
The quality of your hydrangea flowers will not improve as they dry so it is important to choose the right blossoms to cut. Select flowers with as few defects as possible. Watch out for brown spots, insect damage and drooping petals.
How to Cut Hydrangeas for Drying
Select a flower bunch with longer stems
Cut the stem at a 45 degree angle. Make a nice clean cut to allow the stem to soak up the water. Make sure you use a good sharp pruner to cut.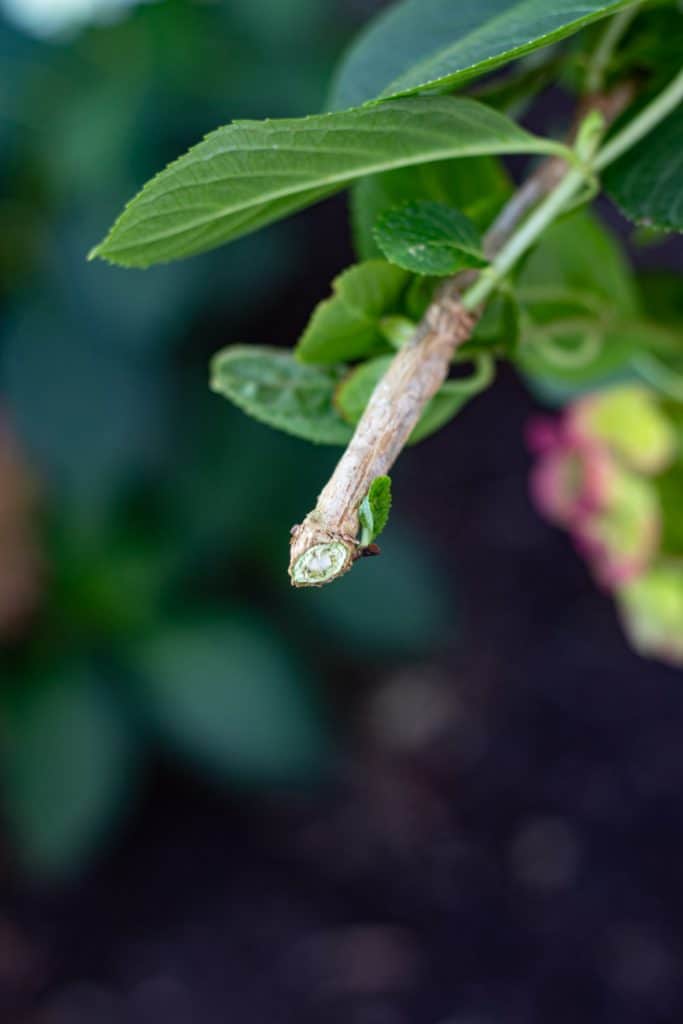 Drying Your Hydrangeas in Water
In water? Really? Seems like a silly idea to dry the hydrangeas in water, but it actually works quite well and is simple to do. The water allows the hydrangea blooms to dry slower, preserving more color.
Fill a glass vase or jar with several inches of water. Make sure to use a vase that is large enough to accommodate the stems. Your blooms should not be crowded to allow the flowers to dry well. Don't crowd.
Trim off the leaves that would be down in the water or even remove all the leaves. They will need to be removed later anyway since they just turn brown and fall off. I like to leave some on (above the water) for a short time while drying because they look pretty.
Place the stems down in that water and allow water to evaporate over time.
Place vase in a cooler area, away from direct sunlight.
Helpful Items to Have When Drying Hydrangeas
Felco F-2 068780 Classic Manual Hand Pruner, F 2, Red
Royal Imports Flower Vase Acrylic Square Tapered Decorative Centerpiece for Home or Wedding – Non Breakable Plastic, 5
Check Out This Post For Flower Ideas
Learning how to dry hydrangeas will allow you to enjoy the beauty of these gorgeous flowers all year, long after the growing season is past. Use them displayed in a rustic bowl, arrange in a vase along with other dried or even fresh flowers. Try your hand at making a pretty wreath using your dried hydrangeas. When you dry hydrangeas, your decorating options are only limited by your imagination.
Everlastings: How to Grow, Harvest and Create with Dried Flowers
Wreaths: Fresh, Foraged and Dried Floral Arrangements
Dried Flower Techniques Book: Over 50 Techniques for Creating Beautiful Arrangements