Ultimate Moist Tender Smoked Traeger Ribs
We may earn money or products from the companies mentioned or linked to in this post.
Traeger Ribs are smoky, moist, tender and most of all, delicious. A perfect, easy bbq meal for your summertime dining.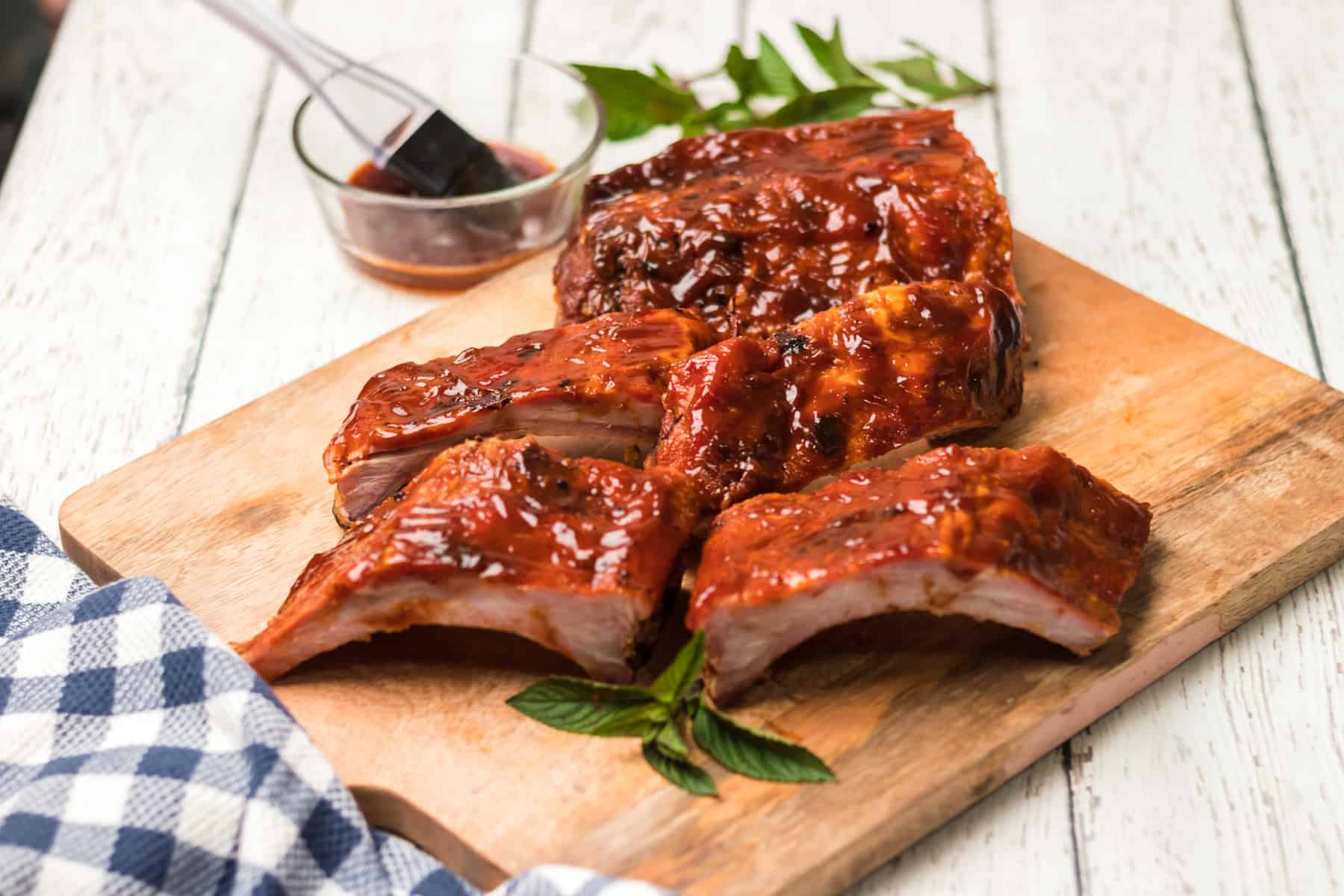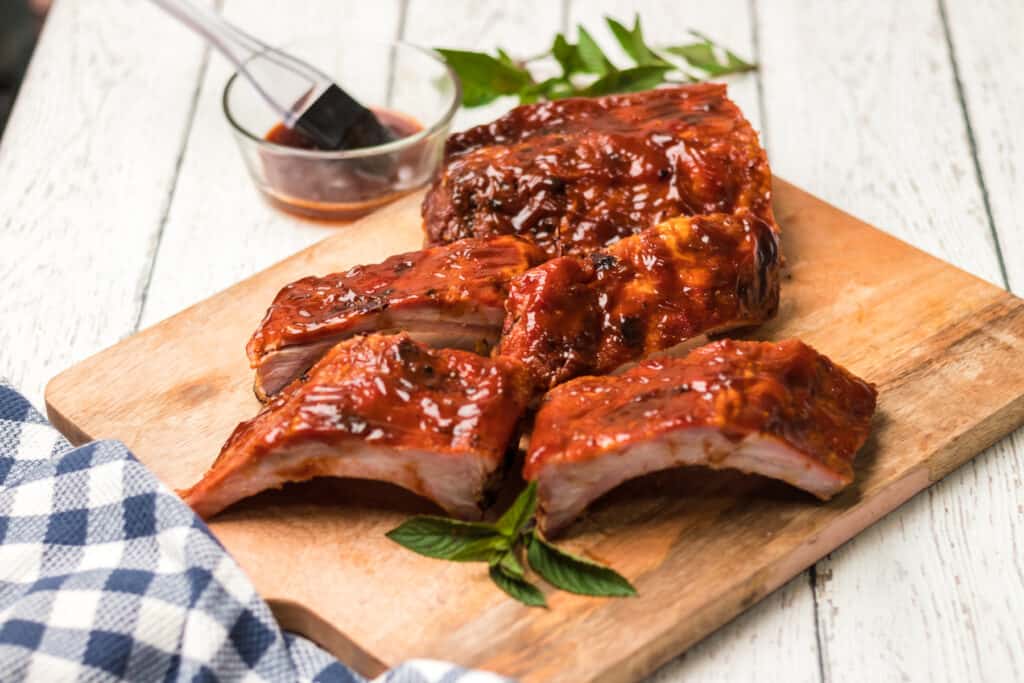 Baby Back Ribs can be cooked in so many ways. Ive done them in the oven, on a standard grill, in the instant pot, crock pot and even in an air fryer. But, nothing compares to the flavor of ribs cooked in a smoker. I especially love the ribs cooked in a Traeger Pellet Smoker. Traeger Ribs turn out so tender, tasty and moist with the perfect smoke ring.
Ingredients Needed for Traeger Ribs
Baby Back Ribs – Purchse some lean ones and try to sweet talk the butcher into removing the membrane. No worries though if they won't. Directions are in the recipe and only takes a minute.
Brown Sugar – Use he dark brown sugar to impart the sweetest flavor.
Spices, includng: paprika, salt, pepper, cinnamon, nutmeg, cumin, garlic and onion. This combination of spices helps to add the smoky element to the rub.
How to Make Smoked Traeger Ribs
Preheat smoker to 250 degrees.
Remove membrane from bone side of ribs.
Combine brown sugar and spice to make the dry rub.
Apply the rub onto both sides of the racks of ribs, rubbing it in well to coat the meat.
Place the racks of ribs directly onto the grates of the smoker.
Insert the thermometer into the thickest part of one of the racks, avoiding the bones.
Close the lid and smoke for 6 hours.
Remove ribs from smoker and reset the temperature to 375 degrees.
Liberally coat both sides of the ribs with a bbq sauce of your choice.
After temperature of the smoker reahes 375, place the rib racks onto the grates and continue to smoke for 7 minutes on each side to caramelize the saucy crust.
Remove from smoker, cut and serve with an extra side of sauce if desired.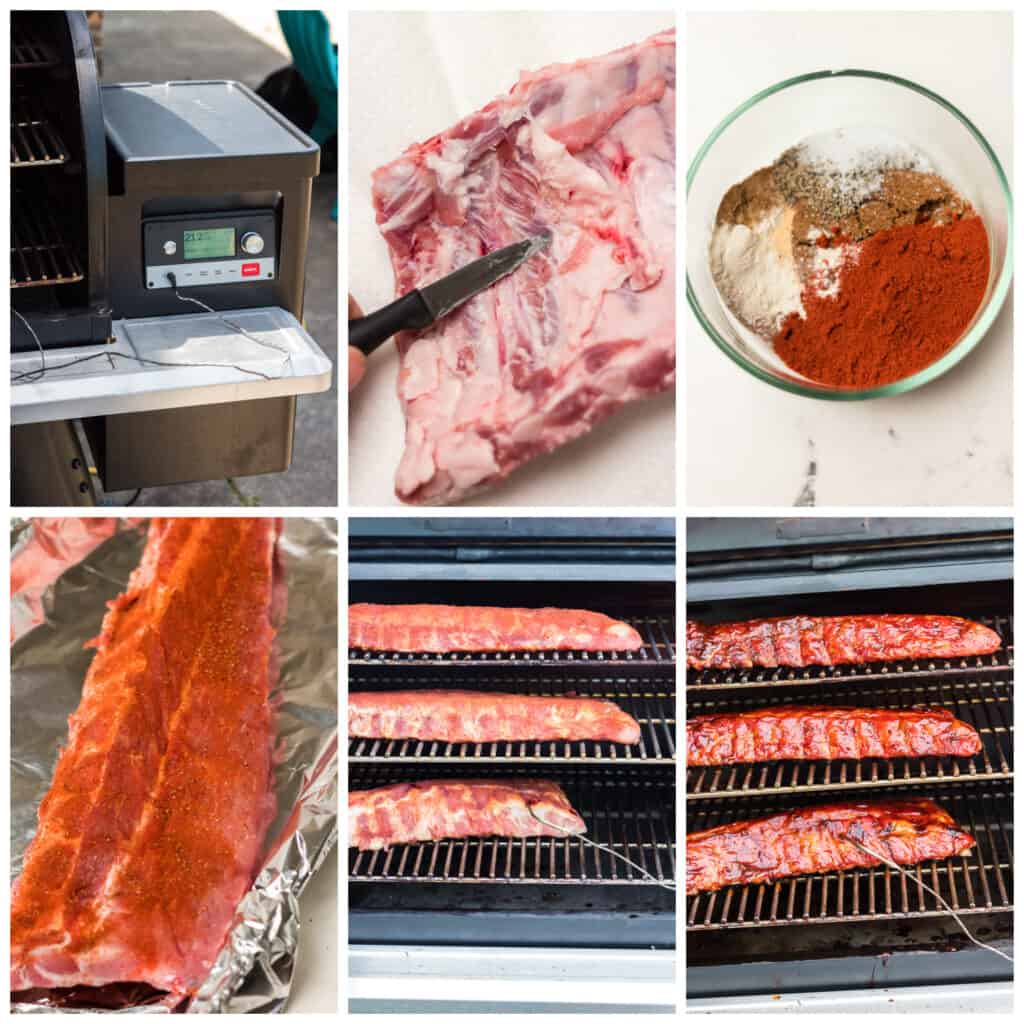 Recipe for Traeger Smoked Pork Ribs
Ingredients
⅓

cup

dark brown sugar

⅛

teaspoon

salt

½

cup

smoked paprika

1

tablespoon

ground black pepper

2

teaspoons

granulated garlic

1

teaspoon

ground cumin

1½

teaspoon

granulated onion

⅓

teaspoon

nutmeg powder

½

teaspoon

cinnamon powder

3

racks

baby back ribs

(approx. 2½ pounds each)
Instructions
Preheat your smoker to 250°.

Remove the membrane on the bone side of your ribs. To do this, slip a sharp knife under the thin membrane and work the knife to loosen a bit. Then grasp the membrane by your fingers and peel it away. You may have to do this in strips. Removing the membrane helps to make the meat more tender. Sometimes, depending on where you buy your meat, they will have already removed the membrane. Set the racks aside while making the rub.

In a small bowl. stir together the sugar and all the spices.

Divide the rub into thirds and sprinkle one third of the spice on each rach of ribs, covering both sides.

Insert your temperature probe into the thickest part of one of the racks, avoiding the bones. Place all three racks onto the grates and close the lid.

Smoke the ribs until the internal temperature reachs 205°. This should take about 6 hours. f you check them and they are still not tender enough, allow them to smoke for about 1 hour longer.

Remove the racks of ribs and turn your temperature up to 375°.

Generously brush both sides of your ribs with bbq sauce.

After your temperature reaches the 375°, return your ribs to the smoker, close the lid and smoke each side for about 7 minutes.

Remove from grill, cut and serve with extra bbq sauce on the side.
What to Serve With These Smoky-Sweet Traeger Ribs
What is the best wood chips to use for ribs?
The type of chips really do make a difference. A flavor such as hickory will add a stronger distinct smoke flavor. I feel that the smoking process itself adds plenty of smoke flavor. I prefer either apple wood chips or cherry wood chips for this recipe.
Why should I remove the membrane from ribs before cooking?
Ribs are made up of cartilage and connective tissue. When you cut through these tissues with a knife, they bleed and release an enzyme that breaks down collagen, causing them to shrink and toughen. Removing the membrane prevents this process from happening.
Why is a smoker a good way to cook ribs?
Smoking meat, low and slow helps keep it moist while cooking. It also adds flavor.
How to Store or Freeze Smoked Traeger Ribs
In the unlikely event you end up with any leftover smoked ribs, they can easily be stored or frozen for a future meal.
Storing Leftover Smoked Ribs in the Refrigerator
Wrap leftover Traeger ribs in plastic wrap to hold in the moisture. It is best to but the ribs into individual bones or smaller portions; then it is easier to remove and reheat just the amount you want. They can be stored inthe refrigerator for up to 3 days.
How to Reheat BBQ Refrigerated Ribs
Ribs stored in the refrigerator should be reheated, covered, in your oven at about 300 degrees until heated through, usually about 20 minutes. Or, you can cover the ribs wit plastic wrap and heat through in your microwave until warmed.
How to Freeze Leftover Smoked Ribs
Leftover Pellet Smoker Ribs can be stored in the freezer for about three months. Tightly wrap the ribs before freezing. Again, it is best to cut into serving size pieces before freezing.
How to Reheat Cooked Ribs That Have Been Frozen
Bring your ribs out of the freezer and allow to thaw before reheating. After they are thawed, they can be covered in plastic wrap and reheated in the microwave or reheated, covered in foil in the oven at 300 degrees until heated through.
More Pellet Smoker Recipes to Try