Chocolate Cinnamon Rolls With Chocolate Chips
We may earn money or products from the companies mentioned or linked to in this post.
Chocolate Cinnamon Rolls combine the best of traditional Cinnamon Rolls with their buttery cinnamon goodness with rich chocolate chip studded filling. Then, just when you think they couldn't get any better, they are topped off with a rich, silky smooth chocolate icing.
What I love about Chocolate Cinnamon Rolls
Chocolate and cinnamon together,,,yum!
Freeze and store well
Can be made ahead
Soft and chewy with a buttery, cinnamon goodness
A favorite with kids and adults
What Ingredients Will I Need for These Rolls?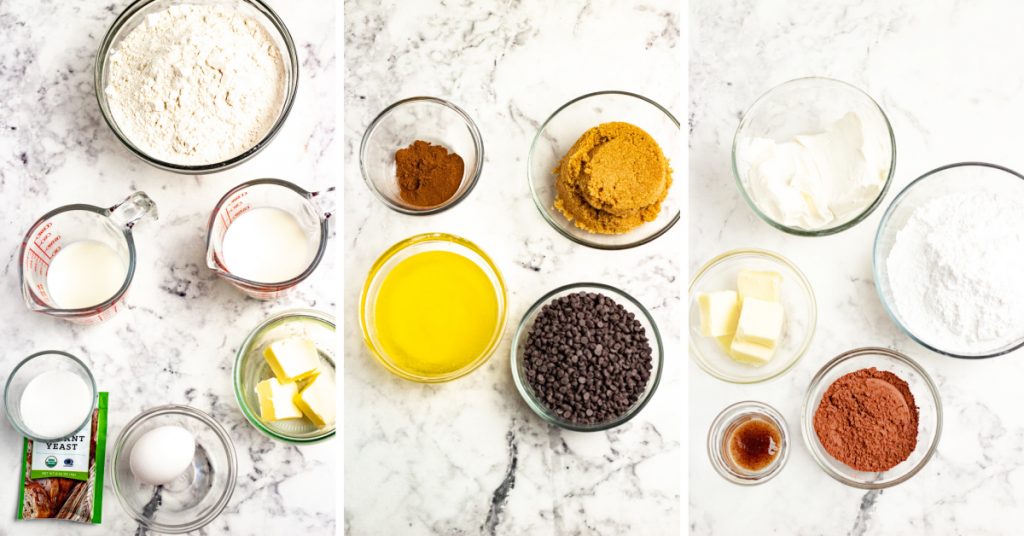 Flour (I prefer bread flour because it rises better)
Brown Sugar (I use the light brown for this recipe)
Granulated Sugar
Milk (You can use most any type, whole, lower fat or even almond or coconut milk)
Butter
Egg
Dry Yeast (make sure your yeast is not dated to prevent a failure to rise)
Cinnamon
Chocolate Chips (the mini chips are easier to roll up in the dough)
Cocoa (I prefer a really quality brand and use this organic cocoa.)
Cream Cheese
Powdered Sugar
Vanilla (although you can use an extract, for a richer taste, you should really try this vanilla bean paste.
How to Make Chocolate Cinnamon Rolls
Heat flour, milk and water to make milk bread starter.
Activate yeast in warm milk and sugar.
Add starter, flour, sugar, egg and salt .
Mix and then knead dough.
Let dough rise till doubled.
Mix filling ingredients.
Roll dough out, spread with filling and chocolate chips.
Roll up dough and cut into equal slices.
Allow to rise in a 6×13-inch pan.
Brush with milk and bake.
Mix icing ingredients.
Cool and ice rolls.
Chocolate Cinnamon Roll Recipe
Equipment
silpat,rolling pin, baking pan, mixer
Ingredients
Starter
½

c

water

⅓

c

bread flour

½

c

milk
Dough
¼

c

granulated sugar

½

c

milk

1

packet

dry yeast

2⅔

c

bread flour

½

c

milk

(warm) reserve ¼ c. for brushing tops

1

large

egg

4

tbsp

salted butter
Filling
½

c

butter

(softened)

1

c

brown sugar

1

tsp

cinnamon

1

c

mini chocolate chips

(can use milk or dark chocolate chips)
Icing
8

oz

cream cheese

(softened)

4

oz

butter

(softened)

1

tsp

vanilla bean paste

(can use vanilla extract)

1½

c

powdered sugar

¼

c

cocoa powder
Instructions
Starter
Place the ½ c. water and ⅓ c. bread flour in a saucepan. Whisk the mixture until smooth, then add the ½ c. milk and whisk again until smooth. Continue to whisk and heat over medium heat until mixture forms a slurry-like consistency. Remove from heat, pour into bowl and cover with plastic wrap, allowing the plastic to touch the slurry so the mixture will not form a skin. Let cool to room temperature.
Dough
Place 1 tsp. of the ¼ cup granualted sugar into a large mixing bowl. Add the ½ c. warm milk and stir to combine. Sprinkle yeast across the top of the mixture and stir gently to combine. Let the mixture sit until it becomes frothy and bubbly (about 15 min.)

After mixture is frothy, add in the remainder of the sugar, ¼ c. warm milk, starter, bread flour, egg and salt.

Either by hand or with the paddle attachment of a stand mixer, mix until the dough is combined and raggedy looking. With a dough hook, knead dough for about 5-minutes on low speed. Divide the four tbsp. of butter into four parts and mix in one part at a time, combining for approximately 20 seconds after each addition. Then knead on medium speed for about 6-minutes, scraping the bowl occasionally. The dough should come together. Form the dough into a ball by hand and place in a large greased bowl, turning once to grease top of dough. Cover bowl with plastic wrap. Allow to rise in a warm place for about 1½ hours until doubled.

After dough has doubled, punch it down and turn it out onto a lightly floured surface. Roll to an 8×20 inch rectangle. Spread the filling across the top and top with the chocolate chips.

Starting at one long end, roll up the dough tightly, pulling back on the dough as you roll to keep the roll tight. Once rolled, seal the long edge seam by pinching the dough together with your fingers. Cut small amount off at each end to make even. Cut the roll into 10 equal pieces. They will probablay still be about 2-inches each because the dough will stretch a bit during rolling.

Place slices into a lightly greased 9×13 inch baking pan. Cover with plastic wrap and allow to rise in a warm place for about 1½ hours until doubled. After doubled, brush the rolls with the ¼ cup of reserved milk. This helps to brown tops.

Bake rolls on the center rack of your preheated oven for approx. 30 min. until lightly browned. Remove from oven and cool in pan on a wire rack until slightly warm. Using a writing tip and piping bag, ice across top of rolls. You can spread the icing on by hand if you choose or thin the icing by adding a little milk and spoon across the tops of the rolls.
Filling
Mix together the melted butter, brown sugar and cinnamon.
Icing
Whip together cream cheese, butter and vanilla until smooth. Add in the powdered sugar and cocoa and whip until smooth.
Nutrition
Serving:
1
piece
|
Calories:
718
kcal
|
Carbohydrates:
89
g
|
Protein:
9
g
|
Fat:
38
g
|
Saturated Fat:
23
g
|
Trans Fat:
1
g
|
Cholesterol:
111
mg
|
Sodium:
319
mg
|
Potassium:
201
mg
|
Fiber:
2
g
|
Sugar:
58
g
|
Vitamin A:
1140
IU
|
Vitamin C:
1
mg
|
Calcium:
123
mg
|
Iron:
1
mg
How Long will These Chocolate Sweet Rolls Last?
Well, they are so good that they will not last long once your family tastes them, But if you do have some left, you can store them in the refrigerator for about 5 days. After that time, they should be eaten or frozen.
How do I Store Chocolate Chip Rolls?
Wrap the rolls tightly in plastic wrap or foil or place in a sealed container. Store in the refrigerator for up to 5 days.
Can I Refrigerate the Dough Overnight and Bake the Next Day?
Perfect idea if you want to serve to your family the next day or plan to take them to a potluck. That way you won't be hurried to do too much the day of the event, After the first rise, cover the pan with plastic wrap and refrigerate. When ready to bake, let stand in a warm place to rise until doubled before baking. This way, you have fresh, warm, soft and gooey rolls to serve.
How do I Freeze These Rolls?
Chocolate Cinnamon Rolls can be frozen for up to three months. They should be stored in an airtight container or bag. Freezing individually works best, making them easy to pull out and reheat.
Can I Freeze These Rolls and Bake Later?
Absolutely, you can freeze and bake later. After the first rise, cover lightly with foil and place in the freezer for up to three months. When ready to bake, simply remove the foil, replace with plastic wrap and allow to thaw, then rise till doubled in size before baking.
Reheating Chocolate Cinnamon Rolls
If you have the time, it is best to pull the rolls from the freezer ahead of time and allow to thaw.  If in a hurry, thaw in the microwave and either eat after thawed or place covered in the oven at 300-degrees until warmed.  The chocolate will melt some but the recipe for the chocolate icing is so easy that you can quickly whip up more.
Tips for Making These Cinnamon Rolls
Use quality vanilla, cocoa and chocolate chips.
Don't rush the process. Allow the needed time for the dough to rise.
Make sure your liquid temperatures are correct. Too hot of a temperature will kill the yeast and too cold will keep it from activating. The normal temperature is 130-degrees but yeasts can vary somewhat so follow what your yeast packet says. A good instant-read thermometer is a must in the kitchen. I like and use the ThermoWorks Thermapen Mk4. It has long been a favorite of America's Test Kitchen. It is a bit pricey but if you do a lot of baking, candy making or just cooking in general it is the best. For a more budget-friendly and also quite good thermometer, they also recommend the Lavatools Javelin PRO Duo.
Don't be too quick to add more flour. These rolls are naturally quite soft and a bit sticky. A little flour on your rolling surface will help with that.
Make sure to have your ingredients at room temperature unless the instructions say different.
More Cinnamon Roll Recipes