Fun and Easy Gender Reveal Cake Pops
We may earn money or products from the companies mentioned or linked to in this post.
Want an exciting and interactive gender reveal for everyone to experience? Gender reveal cake pops are the perfect treat to surprise your friends and family with during a baby gender reveal party.
Gender reveal cake pops are delicious sweet treats and super easy to make in a pinch. These cake pops use food coloring alternatives for those with allergies and can be altered to accommodate almost any food allergy you or your guests might have. These decadent, light, and flavorful sweets are sure to please and shock the whole family once they take a bite.
This tasty treat is great for large gatherings and small parties alike, make as many as you like, they also make great party favors for guests. Gender reveal cake pops also pair well with savory snacks like charcuterie boards or fun trail mixes, mix and match any combinations!
IN A HURRY? CLICK ON THESE LINKS TO TAKE YOU WHERE YOU WANT TO GO.
What You Will Love About These Gender Reveal Cake Pops
Such as fun idea for a gender reveal and allows everyone to participate.
The flavor is awesome.
Fun for the kids in the family too.
Easy to make and can be made ahead of time so you're not rushed on the big reveal day.
Equipment You'll Need
For this recipe you'll need two six inch cake pans, cake pop sticks, holder and treat bags.  This recipe also offers food dye alternatives for those with allergies, red beet root powder, and blue pea powder are recommended.
Ingredient Notes
(Complete ingredients and measurements in recipe card below.)
Wet Cake Mix— A combination of granulated sugar, vegetable oil, a large egg, vanilla Extract, Whole Milk, and Sour Cream to form the base of the cake mix.
Dry Cake Mix— A mix of all-purpose flour, baking powder, and salt to form the complete cake mix.
Blue Pea Powder— Colors the cake batter blue. Or can use regular food dye.
Red Beetroot Powder— Colors the cake batter pink. or can use regular food dye.
White Almond Bark— Coats the cake pops in a delicious shell. Or can use white chocolate chips.
Sprinkles— Adds a sweet crunch to the cake pop. Adds a decorative and sweet crunch to the gender reveal cake pops.
Recipe Variations for Gender Reveal Cake Pops
Swap the cake ingredients for cake mix if you're short on time
Add frosting to your cake balls to make them even more creamy
Use coconut oil instead of vegetable oil if you prefer
Switch the almond bark with white chocolate baking chips
Use any melting chocolate, bark, or chips if preferred, make sure the melted chocolate is smooth before dipping. Add oil if needed to make it smooth
Sprinkle chopped nuts over the top coating.
How to Make Gender Reveal Cake Pops
Preheat the oven.
In one bowl combine wet ingredients until incorporated.
In a separate bowl, mix dry ingredients and gradually add into the wet mix until smooth consistency is achieved.
Divide batter and add red and blue powder to each half.
Spray pans and pour each colored batter in their own pan.
Bake until the center is cooked.
Let cakes cool completely, once cooled crumble cake and form balls.
Melt almond bark and dip sticks in chocolate then place in a cake ball.
Dip cake balls in melted almond bark and add sprinkles, put on a stand to harden.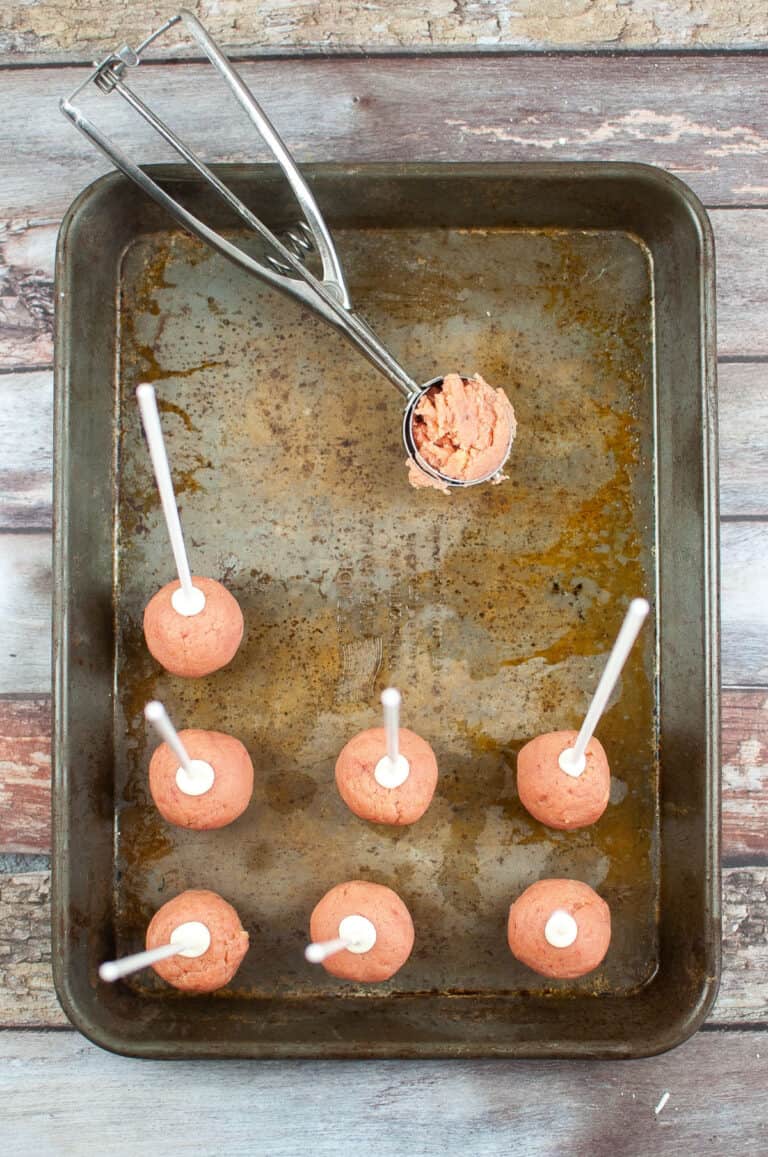 How to Serve Gender Reveal Cake Pops
Serve once the chocolate hardens completely, because they keep well at room temperature, you can make them a few days advance if you want. Place on a party platter for grab and go or wrap them individually for a perfect party favor.
What to Serve With The Cake Pops
Expert Tips and Tricks
Make sure to add sprinkles immediately before the chocolate cools too much or they won't stick.
Try to remove crumbs from melted chocolate after each dip to avoid crumbs on the outside of the cake pop.
Make cake pops one color at a time to avoid mixing which one is blue and which one is pink.
How to Store or Freeze the Gender Reveal Cake Pops
Leftover cake pops can be stored at room temperature in an airtight container for 3-5 days. They can also be kept in the fridge for up to a week.  If you would like to freeze your cake pops, store in a single layer in the freezer in an airtight container for about two months.  Allow to thaw in the refrigerator before serving.
Can this recipe be made Gluten-Free?
Yes, this recipe can be made gluten-free by switching out the all-purpose flour for a gluten-free flour.
Why use beet root or pea flower for the coloring?
Beet root and Pea powder are great alternatives to food dyes and colorings; they are all-natural and easy to use and helpful for people with allergies to regular food dyes. Add more or less to change the hue of your cake pops
Can I use a box cake mix instead of making it from scratch?
Yes, you can make your cake from a box instead of from scratch. Simply follow the instructions on the box and ball cake after it cools as instructed and continue from there.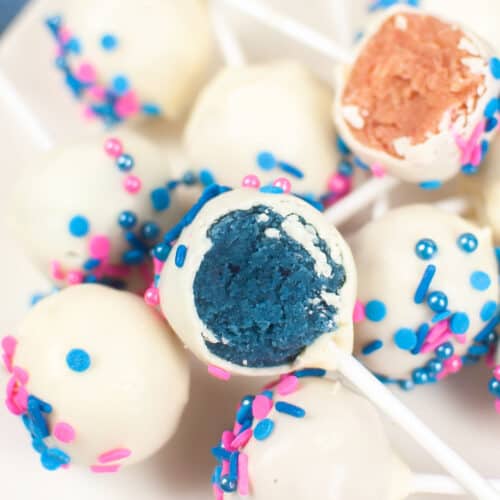 Gender Reveal Cake Pops
Flavorful cake pops with pink and blue centers, coated in white almond bark or chocolate and topped with sprinkles.
Print
Pin
Rate
Equipment
cake pop sticks

2 6 inch cake pans
Ingredients
½

cup

granulated sugar

⅛

cup

vegetable oil

1

teaspoon

vanilla extract

⅛

cup

sour cream

½

cup

all-purpose flour

2

tablespoons

all-purpose flour

¾

teaspoon

baking powder

¼

teaspoon

salt

⅓

cup

milk

2

teaspoons

blue pea powder

½

teaspoon

red beet powder

4

cubes

white almond bark

15

cake pop sticks

pink and blue sprinkles
Instructions
Preheat the oven to 350°f.

In a mixing bowl, combine the egg, sugar, vanilla, and oil. Whisk together until fully incorporated.

Add the sour cream and milk and combine.

In another mixing bowl, combine and mix the flour, baking powder, and salt. Gradually mix the dry ingredients Into the wet ingredients until a smooth batter remains.

Divide the batter into two bowls. Add the blue powder to one and the red powder to the other. Mix well until the desired color is reached.

Spray the two 6" cake pans with oil and pour each colored batter into the respective pan.

Place the pans on a baking sheet for convenience and cook at 350°f for 20 minutes. Test the center of the cakes with a toothpick to be sure they're fully cooked.

Once cooked, remove and set aside to completely cool before removing the cakes from the pan.

Once the cakes have cooled, crumble the cake and form them into 1 1/2" balls. Set aside. (See note)

Melt the almond bark in a bowl using a microwave. Heat 30 seconds at a time until fully melted. Add a splash of oil if needed.

Dip the cake pop stick into the melted chocolate about a half inch. Then stick it into the cake ball. Repeat for all the cake balls.

Take the cake pops that were first to receive their sticks and dip them into the melted chocolate until fully coated. Place upright in a holder or foam base to allow the chocolate to harden. Make sure you know which cake pop is the desired color. Add the sprinkles on top of the cake pops before the chocolate hardens.
Notes
Note from step 9: If you find that your cake ball is too crumbly, you can always frost your cake mix. Add about 1 tbsp of frosting at a time until desired. Best to mix your cake mix when hot so you won't need frosting!
Nutrition
Serving:
1
cake pop
|
Calories:
54
kcal
|
Carbohydrates:
11
g
|
Protein:
1
g
|
Fat:
1
g
|
Saturated Fat:
0.4
g
|
Polyunsaturated Fat:
0.04
g
|
Monounsaturated Fat:
0.1
g
|
Cholesterol:
2
mg
|
Sodium:
42
mg
|
Potassium:
37
mg
|
Fiber:
0.1
g
|
Sugar:
7
g
|
Vitamin A:
21
IU
|
Vitamin C:
0.02
mg
|
Calcium:
18
mg
|
Iron:
0.3
mg
** If you try this recipe, please come back and let us know how you like it.
More Recipes You Will Love